Son 100 Yılın En Kötü Felaketinin Ardından Travma Sonrası Stres Bozukluğu
Deprem ve posttravmatik stress bozukluğu
Anahtar Kelimeler:
Deprem, posttravmatik stres bozukluğu
Özet
Bu araştırmanın amacı, şimdiye kadar görülmemiş özellikler taşıyan bu iki büyük depremin, bunları yaşayan kadınların psikolojik durumları üzerindeki etkilerini incelemek ve gelecekte yaşanabilecek felaketlerde bu tür sorunları en aza indirecek önlemlerin alınmasına katkıda bulunmaktır.
Çalışma depremden iki ay sonra Devlet Hastanesi Kadın Doğum Kliniğinde gerçekleştirildi. Veriler Deprem Sonrası Travma Düzeyi Belirleme Ölçeği kullanılarak toplanmıştır. Veri toplama 30 gün boyunca gerçekleştirildi. Toplam 440 katılımcı dahil edildi. Yaş, cinsiyet, eğitim, meslek, medeni durum, çocuk sayısı ve gelir gibi demografik özellikler kaydedildi.
Katılımcıların 112'sinde (%25,45) hafif travma, 170'inde (%38,63) orta travma, 139'unda (%31,59) şiddetli travma ve 19'unda (%4,31) çok şiddetli travma skorları gözlendi. Travma skorları, eve verilen hasar (p<0,001) ve gelir durumu kötü olan gruplar (p=0,009) açısından gruplar arasında anlamlı farklılık gösterdi. Evleri yıkılan ya da ağır hasar gören bireylerin travma puanları, evlerinde orta derecede hasar gören, çok az hasar gören ya da hiç hasar görmeyenlere göre daha yüksekti (tümü için p<0,001).
Yapılacak yardım ve destekte travmaya yol açan etiyolojik faktörler dikkate alınmalıdır.
Referanslar
Yetter T, Masten E. Post-traumatic stress disorder. JAAPA. 2022;35(5):62-3. doi: 10.1097/01.JAA.0000824984.90489.95.
Galea S, Vlahov D, Resnick H, Kilpatrick D, Bucuvalas MJ et al. An investigation of the psychological effects of the September 11, 2001, attacks on New York City: developing and implementing research in the acute postdisaster period. CNS Spectr. 2002;7:585–7. doi: 10.1017/s1092852900018198.
Henning JA, Brand BL. Implications of the American Psychological Association's posttraumatic stress disorder treatment guideline for trauma education and training. Psychotherapy (Chic). 2019 Sep;56(3):422-430. doi: 10.1037/pst0000237.
Tanhan F, Kayri M. Deprem sonrası travma düzeyini belirleme ölçeğinin geçerlik ve güvenirlik çalışması. Kuram ve Uygulamada Eğitim Bilimleri. 2013;13(2)1013-25.
Abolhadi E, Divsalar P, Mosleh-Shirazi MA, Dehesh T. Latent classes of posttraumatic stress disorder among survivors of the Bam Earthquake after 17 years. BMC Psychiatry. 2022;22(1):603. doi: 10.1186/s12888-022-04216-3.
Ma Z, Xia Y, Lin Z. Curvilinear relationship between disaster exposure and psychological growth:10 years after the Wenchuan earthquake. Psychiatry Res. 2019;274:280-6. doi: 10.1016/j.psychres.2019.02.032.
Qi J, Yang X, Tan R, Wu X, Zhou X. Prevalence and predictors of posttraumatic stress disorder and depression among adolescents over 1 year after the Jiuzhaigou earthquake. J Affect Disord. 2020;261:1-8. doi: 10.1016/j.jad.2019.09.071.
Trabsa A, Lee N, Lee JH. Posttraumatic Stress Symptoms, Physical Illness, and Social Adjustment Among Disaster Victims. Disaster Med Public Health Prep. 2022;17:e195. doi: 10.1017/dmp.2022.89.
Kilic C, Ulusoy M. Psychological effects of the November 1999 earthquake in Turkey: an epidemiological study. Acta Psychiatr Scand. 2003;108:232-8. doi: 10.1034/j.1600-0447.2003.00119
Wang X, Gao L, Shinfuku N, Zhang H, Zhao C, Shen Y. Longitudinal study of earthquake-related PTSD in a randomly selected community sample in north China. Am J Psychiatry. 2000;157:1260- 6. doi:10.1176/appi.ajp.157.8.1260.
Thompson-Hollands J. Introduction to the special section on social relationships and posttraumatic stress disorder treatment: Harnessing the power of significant relationships. J Trauma Stress. 2023;36(3):479-83. doi:10.1002/jts.22922.
Fu M, Hall BJ, Xi J, Guo J. Gender differences in trajectories of mental health symptoms among Chinese earthquake survivors. J Psychiatr Res. 2021;142:117-124. doi: 10.1016/j.jpsychires.2021.07.034.
Acharya PR, Chalise P , Khadka S, Chaulagain B, Maharjan B , Pandey J, et al. Post-traumatic stress disorder and its associated factors among survivors of 2015 earthquake in Nepal. BMC Psychiatry. 2023;15;23(1):340. doi: 10.1186/s12888-023-04836-3
Altindag A, Ozen S, Sir A. One-year follow-up study of posttraumatic stress disorder among earthquake survivors in Turkey. Compr Psychiatry. 2005;46:328-33. doi: 10.1016/j.comppsych.2005.01.005.
Iinuma K. Lessons from "the 2011 off the Pacific coast of Tohoku Earthquake" through activity of Japanese Red Cross Ishinomaki Hospital (JRCIH). Brain Dev. 2013;35:190–2. doi: 10.1016/j.braindev.2012.10.002.
Green BL, Lindy JD, Grace MC, Leonard AC. Chronic posttraumatic stress disorder and diagnostic comorbidity in a disaster sample. J Nerv Ment Dis. 1992;180:760–6. doi: 10.1097/00005053-199212000-00004.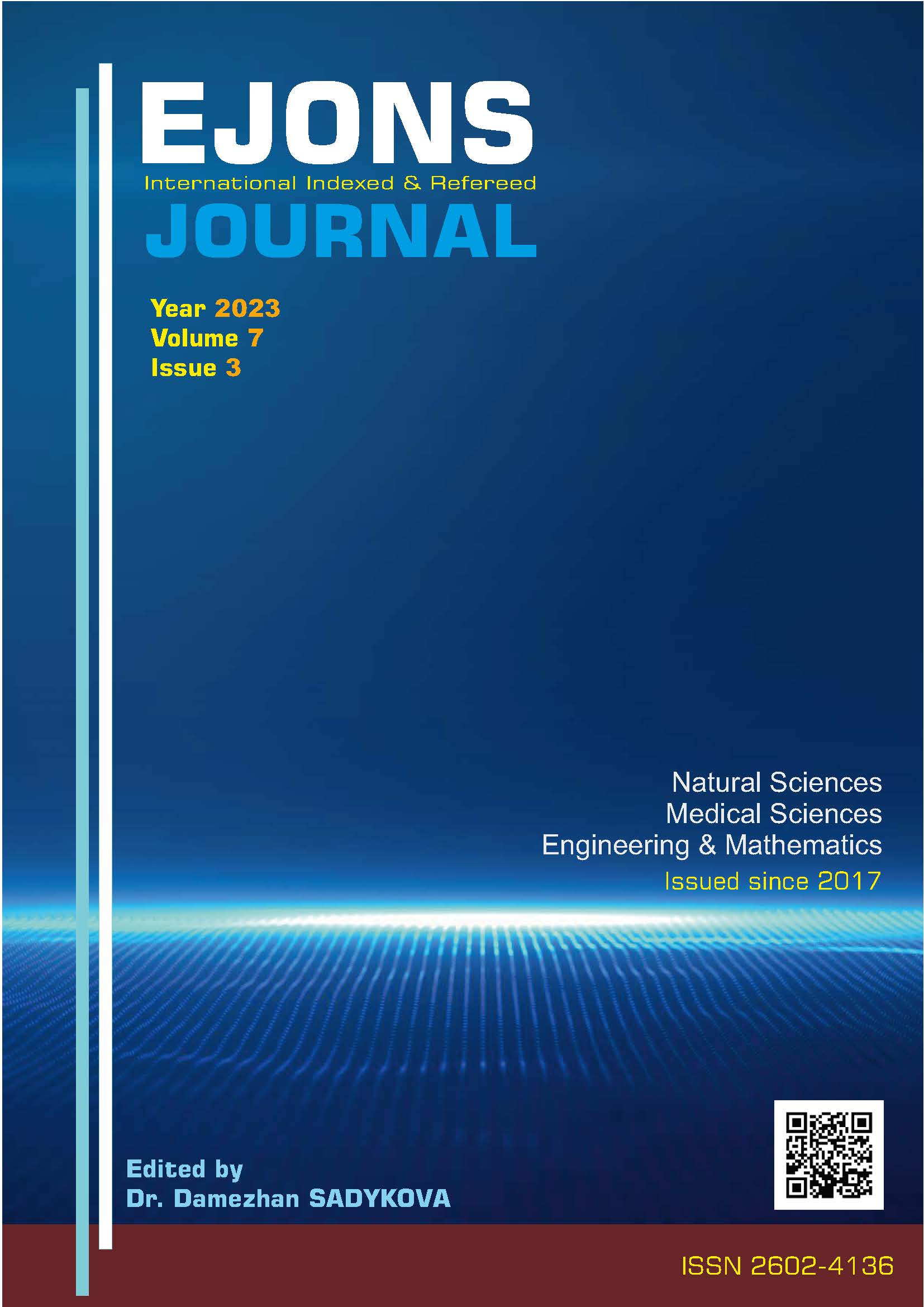 İndir
Nasıl Atıf Yapılır
Yörük, N. (2023). Son 100 Yılın En Kötü Felaketinin Ardından Travma Sonrası Stres Bozukluğu: Deprem ve posttravmatik stress bozukluğu. EJONS INTERNATIONAL JOURNAL, 7(3), 332–339. Erişim adresi: https://ejons.org/index.php/ejons/article/view/382
Lisans
Telif Hakkı (c) 2023 EJONS INTERNATIONAL JOURNAL
Bu çalışma Creative Commons Attribution-NonCommercial 4.0 International License ile lisanslanmıştır.