A Promising Method For Post-COVID/Long-COVID Syndrome: Noninvasive Vagus Nerve Stimulation
Noninvasive Vagus Nerve Stimulation For Covid-19
Keywords:
Autonomic Nervous System Dysfunction, Long-COVID, Neuromodulation, Vagus Nerve Stimulation, Post-COVID
Abstract
COVID-19 pandemic has caused unprecedented morbidity, mortality and global disruption. While most COVID-19 patients have mild symptoms and recover within several weeks, more than 50% are left with ongoing symptoms several months later many of which appear autonomic in nature. Autonomic nervous system (ANS) dysfunction may be the underlying mechanism of Post or Long Covid syndrome and appears to be related to its symptoms.
Neuromodulation methods can improve and regulate the activites of the sympathetic and parasympathetic branches. Vagus Nerve Stimulation (VNS) is approved for the treatment of drug refractory epilepsy and depression. Also it has been shown to attenuate hyperinflammation and it carries the potential for correction of the imbalance in ANS. So it can be said that noninvasive VNS can be used as an adjunct therapy in COVID-19 patients. In COVID-19 pneumonia cases, transcutaneous auricular VNS can reduce markedly elevated interleukin-6 levels. In addition, VNS appears to be useful in COVID-19 related respiratory symptoms. However, selective VNS is important to decrease unwanted side effects like bronchoconstriction in COVID-19 caused acute respiratory distress syndrome. VNS can further decrease airway passage by increasing mucus secretion. To prevent this, organ/function-specific stimulation will be better for regulation of the ANS. VNS is also recommended for the treatment of cytokine storm in severe COVID-19 patients and again monitoring of the ANS is suggested for more accurate treatment.Cytokine storm is strongly correlated with sympathetic overactivity and ANS dysfunction. So it can be said that PNS-mediated anti-inflammatory effect is diminished in hyperinflammatory status. Chronic ANS dysfunction in Post-Covid patients probably continues in a vicious circle. Disease-related stress also aggravates the condition. As a safe treatment method, auricular VNS can be preferred as an adjuvant therapy in Covid-19 and similar infectious diseases with hyperinflammation. The ability of VNS to modulate the immune system without impairing specific immunity to infectious agents is highly advantageous in the treatment of inflammatory conditions due to COVID-19 and other infectious agents. Non-invasive neuromodulation methods can be preferred for the management of COVID-19 symptoms both in the active disease period or after it to control long COVID. Non-invasive cranial microcurrent stimulation can reduce vascular dysregulation and improve cognitive impairment in Post Covid patients. Vagus nerve signal disorder and ANS dysfunction are most likely to occur in long COVID. This is often accompanied by an immune system disorder. Fatigue, malaise, brain fog, headaches, sleep problems, muscle pain, tachycardia are commonly seen in Long COVID and all are related with ANS dysfunction. VNS is a method that has been recognized as safe and it can be beneficial for the treatment of postural orthostatic tachycardia syndrome and other symptoms related with Long COVID.
References
Dani M, Dirksen A, Taraborrelli P, Torocastro M, Panagopoulos D, Sutton R, Lim PB.Autonomic dysfunction in 'long COVID': rationale, physiology and management strategies.Clin Med (Lond). 2021 Jan;21(1):e63-e67.
Larsen NW, Stiles LE, Miglis MG.Preparing for the long-haul: Autonomic complications of COVID- 19. Auton Neurosci. 2021 Nov;235:102841.
Benarroch EE. Physiology and Pathophysiology of the Autonomic Nervous System. Continuum (Minneap Minn). 2020 Feb;26(1):12-24.
Berntson GG, Cacioppo JT, Quigley KS. Autonomic determinism: the modes of autonomic control, the doctrine of autonomic space, and the laws of autonomic constraint. Psychol Rev. 1991 Oct;98(4):459-87.
Porzionato A, Emmi A, Barbon S, Boscolo-Berto R, Stecco C, Stocco E, Macchi V, De Caro R Sympathetic activation: a potential link between comorbidities and COVID-19. FEBS J. 2020 Sep;287(17):3681-3688.
Pan Y, Yu Z, Yuan Y, Han J, Wang Z, Chen H, Wang S, Wang Z, Hu H, Zhou L, Lai Y, Zhou Z, Wang Y,Meng G, Yu L and Jiang H. Alteration of Autonomic Nervous System Is Associated With Severityand Outcomes in Patients With COVID-19. Front. Physiol. (2021) 12:630038.
Buoite Stella A, Furlanis G, Frezza NA, Valentinotti R, Ajcevic M, Manganotti P. Autonomic dysfunction in post-COVIDpatientswithand witfhout neurological symptoms: a prospective multidomain observational study. J Neurol. 2021 Aug 12:1-10.
Becker RC. Autonomic dysfunction in SARS-COV-2 infection acute and long-term implications COVID-19 editor's page series. J Thromb Thrombolysis. 2021 Oct;52(3):692-707.
Gibbins I. Functionalorganization of autonomicneuralpathways. Organogenesis. 2013 Jul-Sep;9(3):169-75.
Shouman K, Vanichkachorn G, Cheshire WP, Suarez MD, Shelly S, Lamotte GJ, Sandroni P, Benarroch EE, Berini SE, Cutsforth-Gregory JK, Coon EA, Mauermann ML, Low PA, Singer W. Autonomic dysfunction following COVID-19 infection: an early experience. Clin Auton Res. 2021 Jun;31(3):385-394.
Goldstein DS. The extended autonomic system, dyshomeostasis, and COVID-19.Clin Auton Res. 2020 Aug;30(4):299-315.
Fudim M, Qadri YJ, Ghadimi K, MacLeod DB, Molinger J, Piccini JP, Whittle J, Wischmeyer PE, Patel MR, Ulloa L. Implications for Neuromodulation Therapy to Control Inflammation and Related Organ Dysfunction in COVID-19. J Cardiovasc Transl Res. 2020 Dec;13(6):894-899.
dos Santos CC, Shan Y, Akram A, Slutsky AS, Haitsma JJ. Neuroimmune regulation of ventilator-induced lung injury. Am J Respir Crit Care Med. 2011 Feb 15;183(4):471-82.
van Westerloo DJ, Giebelen IA, Meijers JC, Daalhuisen J, de Vos AF, Levi M, van der Poll T. Vagus nerve stimulation inhibits activation of coagulation and fibrinolysis during endotoxemia in rats. J Thromb Haemost. 2006 Sep;4(9):1997-2002.
Huston JM, Gallowitsch-Puerta M, Ochani M, Ochani K, Yuan R, Rosas-Ballina M, Ashok M, Goldstein RS, Chavan S, Pavlov VA, Metz CN, Yang H, Czura CJ, Wang H, Tracey KJ. Transcutaneous vagus nerve stimulation reduces serum high mobility group box 1 levels and improves survival in murine sepsis. Crit Care Med. 2007 Dec;35(12):2762-8.
Davido B, Seang S, Tubiana R, de Truchis P.PostCOVID-19 chronic symptoms: a postinfectious entity?Clin Microbiol Infect. 2020 Nov;26(11):1448-1449.
Blitshteyn S, Whitelaw S. Postural orthostatic tachycardia syndrome (POTS) and other autonomic disorders after COVID-19 infection: a case series of 20 patients.Immunol Res. 2021 Apr;69(2):205-211.
O'Sullivan JS, Lyne A, Vaughan CJ. COVID-19-induced postural orthostatic tachycardia syndrome treated with ivabradine.BMJ Case Rep. 2021 Jun 14;14(6):e243585.
Miglis MG, Prieto T, Shaik R, Muppidi S, Sinn DI, Jaradeh S. A case report of postural tachycardia syndrome after COVID-19. Clin Auton Res. 2020 Oct;30(5):449-451.
Raj SR, Arnold AC, Barboi A, Claydon VE, Limberg JK, Lucci VM, Numan M, Peltier A, Snapper H, Vernino S; American Autonomic Society. Long-COVID postural tachycardia syndrome: an American Autonomic Society statement.Clin Auton Res. 2021 Jun;31(3):365-368.
Johansson M, Ståhlberg M, Runold M, Nygren-Bonnier M, Nilsson J, Olshansky B, Bruchfeld J, Fedorowski A. Long-Haul Post-COVID-19 Symptoms Presenting as a Variant of Postural Orthostatic Tachycardia Syndrome: The Swedish Experience.JACC Case Rep. 2021 Apr;3(4):573-580.
Suresh K, Alam MDU, Satkovich E. COVID-19-Associated Dysautonomia. Cureus. 2021 Aug 13;13(8):e17156.
Kakumoto T, Kobayashi S, Yuuki H, Kainaga M, Shirota Y, Hamada M, Hashimoto Maeda M, Kubota A, Kawai M, Saito M, Ishiura H, Toda T. Cranial Nerve Involvement and Dysautonomia in Post-COVID-19 Guillain-Barre Syndrome.Intern Med. 2021 Nov 1;60(21):3477-3480.
Moreno-Escobar MC, Kataria S, Khan E, Subedi R, Tandon M, Peshwe K, Kramer J, Niaze F, Sriwastava S. AcutetransversemyelitiswithDysautonomia following SARS-CoV-2 infection: A case report and review of literature.J Neuroimmunol. 2021 Apr 15;353:577523.
Biassoni E, Assini A, Gandoglia I, Benedetti L, Boni S, Pontali E, Feasi M, Gandolfo F, Del Sette M.
The importance of thinking about Guillain-Barre syndrome during the COVID-19 pandemic: a case with pure dysautonomic presentation.J Neurovirol. 2021 Aug;27(4):662-665.
Townsend L, Moloney D, Finucane C, McCarthy K, Bergin C, Bannan C, et al. (2021) Fatigue following COVID-19 infection is not associated with autonomic dysfunction. PLoS ONE 16(2): e0247280.
Lo YL. COVID-19, fatigue, and dysautonomia.J Med Virol. 2021 Mar;93(3):1213.
Barizien N, Le Guen M, Russel S, Touche P, Huang F, Vallée A. Clinicalcharacterization of dysautonomia in long COVID-19 patients.Sci Rep. 2021 Jul 7;11(1):14042.
Azabou E, Bao G, Bounab R, Heming N, Annane D. Vagus Nerve Stimulation: A Potential Adjunct Therapy for COVID-19. Front Med (Lausanne). 2021 May 7;8:625836.
Boezaart AP, Botha DA. Treatment of Stage 3 COVID-19 With Transcutaneous Auricular Vagus Nerve Stimulation Drastically Reduces Interleukin-6 Blood Levels: A Report on Two Cases. Neuromodulation. 2021 Jan;24(1):166-167.
Staats P, Giannakopoulos G, Blake J, Liebler E, Levy RM. The Use of Non-invasive Vagus Nerve Stimulation to Treat Respiratory Symptoms Associated With COVID-19: A Theoretical Hypothesis and Early Clinical Experience. Neuromodulation. 2020 Aug;23(6):784-788.
Mastitskaya S, Thompson N, Holder D. Selective Vagus Nerve Stimulation as a Therapeutic Approach for the Treatment of ARDS: A Rationale for Neuro-Immunomodulation in COVID-19 Disease. Front Neurosci. 2021 Apr 13;15:667036.
Bonaz B, Sinniger V, Pellissier S. Targeting the cholinergic anti-inflammatorypathway with vagusnervestimulation in patients with Covid-19?Bioelectron Med. 2020 Jul 29;6:15.
Qin Z, Xiang K, Su DF, Sun Y, Liu X. Activation of the Cholinergic Anti-Inflammatory Pathway as a Novel Therapeutic Strategy for COVID-19.Front Immunol. 2021 Feb 8;11:595342.
Al-Kuraishy HM, Al-Gareeb AI, Qusti S, Alshammari EM, Gyebi GA, Batiha GE. Covid-19-Induced Dysautonomia: A Menace of Sympathetic Storm. ASN Neuro. 2021 Jan-Dec;13:17590914211057635.
Kaniusas E, Szeles JC, Kampusch S, Alfageme-Lopez N, Yucuma-Conde D, Li X, Mayol J, Neumayer C, Papa M, Panetsos F. Non-invasive Auricular Vagus Nerve Stimulation as a Potential Treatment for Covid19-Originated Acute Respiratory Distress Syndrome. Front Physiol. 2020 Jul 28;11:890.
Baptista AF, Baltar A, Okano AH, Moreira A, Campos ACP, Fernandes AM, Brunoni AR, Badran BW, Tanaka C, de Andrade DC, da Silva Machado DG, Morya E, Trujillo E, Swami JK, Camprodon JA, Monte-Silva K, Sá KN, Nunes I, Goulardins JB, Bikson M, Sudbrack-Oliveira P, de Carvalho P, Duarte-Moreira RJ, Pagano RL, Shinjo SK, Zana Y. Applications of Non-invasive Neuromodulation for the Management of Disorders Related to COVID-19. Front Neurol. 2020 Nov 25;11:573718.
Sabel BA, Zhou W, Huber F, Schmidt F, Sabel K, Gonschorek A, Bilc M. Non-invasive brain microcurrent stimulation therapy of long-COVID-19 reduces vascular dysregulation and improves visual and cognitive impairment. Restor Neurol Neurosci. 2021;39(6):393-408.
Proal AD, VanElzakker MB. Long COVID or Post-acute Sequelae of COVID-19 (PASC): An Overview of Biological Factors That May Contribute to Persistent Symptoms. Front Microbiol. 2021 Jun 23;12:698169.
Petelin Gadze Z, Bujan Kovac A, Adamec I, Milekic N, Sulentic V. Vagal nerve stimulation is beneficial in postural orthostatic tachycardia syndrome and epilepsy. Seizure. 2018 Apr;57:11-13.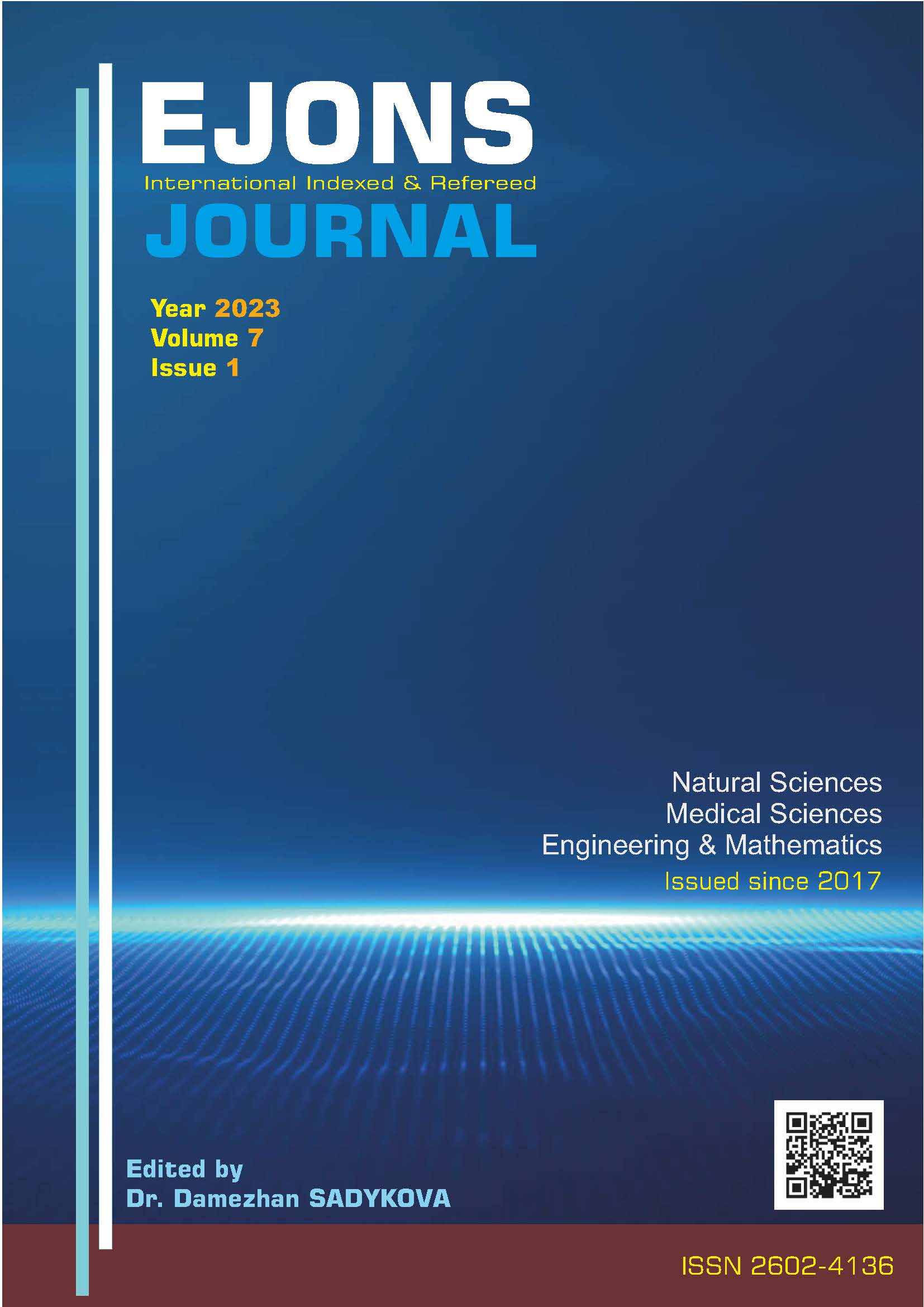 Downloads
How to Cite
Özden, A. V., & Perçin, A. (2023). A Promising Method For Post-COVID/Long-COVID Syndrome: Noninvasive Vagus Nerve Stimulation: Noninvasive Vagus Nerve Stimulation For Covid-19. EJONS INTERNATIONAL JOURNAL, 7(1), 16–23. https://doi.org/10.5281/zenodo.8198614
License
Copyright (c) 2023 EJONS INTERNATIONAL JOURNAL
This work is licensed under a Creative Commons Attribution-NonCommercial 4.0 International License.